We bring it to you every year…
Homeowners are planning to be active remodelers this year.
Nearly two in five homeowners are planning to do some kind of renovation project in 2020. As popular as remodeling your home is, these homeowners will prioritize kitchen and bathroom renovations above all other rooms.
So, what are the most popular renovation items on the list?
Let's take a look at the Bathroom First.
…according to our own observations.
Floating Vanities… a bathroom cabinet that is anchored to the wall. It does not extend all the way to the floor, so it's easy to clean under.
Blue Hues… Sherwin Williams' color of the year in 2020 is Navel. Pick your tint, add a splash of an accent color, and have at it!
European Style Wet-room… described as a big, open room with a drain in the middle. It's also great for washing kids, dogs, and grandparents.
Large Tile… The bigger the better to tie your bathroom together. They also look great with smaller grout lines, simplicity wins.
The overall theme of our results is to look LARGER, make your renovation easy to clean and stick with simple designs.
What about the Kitchen?
Do the same types of 2020 Trends populate the prep-space?
Here they are:
Semi-Open rooms… Sometimes we just want to getaway. Archways and sliding room dividers are dominating many designs.
Brushed Metallic accents… Brass knobs and steel hardware are being added to compliment the 'warm-touch' of wood and plank flooring.
Invisible appliances… Experts say it's about visual-flow. They're creating zones in the kitchen by putting panel overlays on dishwashers, and sometimes moving the refrigerators out all-together.
Textured Tiles… What better way to personalize your new kitchen than with 'embossed' and 'mosaic tiles'? The pattern palette is all yours.
It's all about your tastes. You decide.

It's your home – Live with what you Love.
---
And here's a Bonus 2020 Trends, for those willing to be so bold…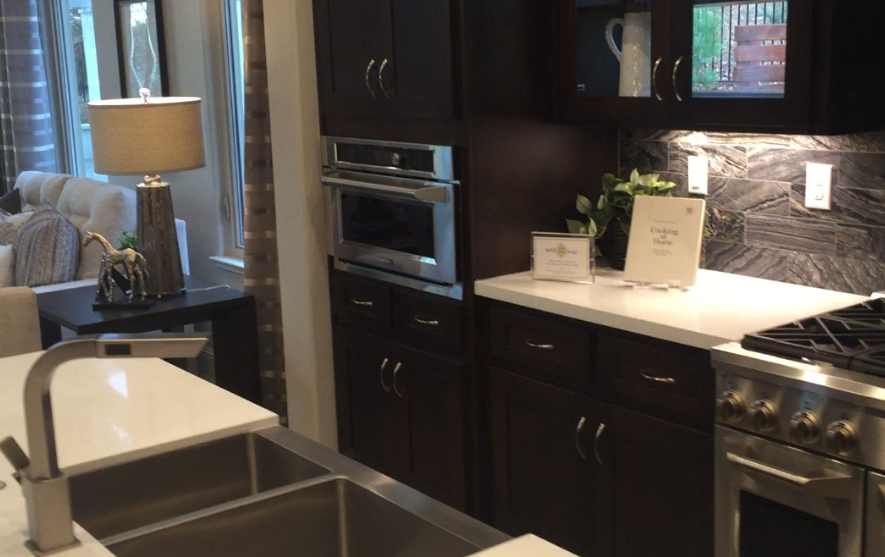 The Dominant color of Black replacing White-on-White in the kitchen & bath.
What do you think about that?
---
More recent Articles from AskTheContractors.com