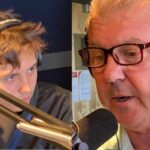 Welcome, everyone. Welcome Back to AskTheContractors.com, your Home Improvement Show on air with information that you need to keep your home in working order. In fact, I love DIY people out there who doing their project's themselves and as a Contractor, I want to help answer your questions for you. This week I also want to talk about Big Brothers and Big Sisters.
However, even though this show is about homes and fixing up your homes and all the projects, and the questions that I get, I love the questions from all my listeners. Not just from the greater Sacramento area, but from all around the world. People send us questions and we try and answer them right here on AskTheContractors.com where we cut through it all and nail things down. Again I'm your host Todd Bird. Thank you so much for joining us.
Now, I want to divert a little bit from what I usually talk about on my show.
I do have a passion and that's children. I love children. I've raised children some beautiful kids, two boys, two girls, raising a granddaughter from birth, and she's awesome. She's on her way off to High School this year. And so, kids mean a lot to me and sometimes kids need guidance. Who is there to give them that type of guidance?
Well, I want to talk a little bit about Big Brothers and Big Sisters of America.
I've been privileged enough to be a part of Big Brothers of America, and I've also been very privileged to be hooked up with a great young man. His name is Juan and he's just a neat kid. We've been having a great time together. Juan is here with me today.
Thank you for coming on my show.
Juan: Thank you.
Todd: Yeah, it's really good to have you here. So Juan, you and I are Bros. I mean, we hang out together. It's kind of fun. We don't see each other as much as we'd like.
You do some things. Tell us about some of the things we've done together and how you feel about it. So what we did was on our first outing?
Juan: First we went hiking and it was fun because we saw a lot of animals. We got to see more stuff than we usually do. It's near a busy place and then it cuts off and then like there's a lot of Nature and stuff. In the nature, sound takes over and it was pretty fun.
Todd: It was kind of interesting because we went to is called Arden Pond, which is very close to Sacramento and you're right, we go through this neighborhood and all these businesses and all of a sudden, we're in a park and we're on the trail and then before you know it we're in Wilderness. I mean, it wasn't more than two or three hundred yards. All of a sudden. We were like a million miles from Sacramento. And what was some of the wildlife that we saw?
We saw Turtles, one Jackrabbit, a bunny and a lizard.
Todd: In the nature, sound takes over and it was pretty fun because when we stayed on that one path that we were on, sometimes we would just stop and be really quiet. We could hear all these sounds around us.
And, it was really interesting because it made us feel like we were a million miles away. That's pretty cool stuff.
A couple of other things, we've done. We've done quite a few things together. We went to a Warrior's game not too long ago.
Juan: Yeah. It was fun. That was a lot of fun.
Todd: Yeah. Yeah, it's not too often I go to a Kings game, but it was the Warriors against the Kings – and I was actually pulling for the Warriors secretly. Even though I'm in Sacramento and I was supposed to be a Kings fan, but I was pulling for the Warriors and now they're in the playoffs. I personally would like to see them go all the way again.
How about you?
Juan: Yeah. Yeah, that's pretty great.
Todd: A couple of other things we've done together. I know we're getting ready for a trip that we're going to be taking. What did we do last week?
Juan: We bought a fishing pole and I was practicing casting so we're ready for the trip.
Todd: Yeah, we're going to be going up to a lake up in Amador County. There's actually a private Lake and I was told that it's pretty much guaranteed we're going to catch a fish. I hope so. I hope so for my sake, so I don't have egg on my face. It's no fun to go fishing and not catch something. So so that's great.
Tell me about the Big Brother program. How do you feel about it?
Juan: Yeah. It's very good. You can meet people that have stuff in common with you and you could go places with them, and they have the same energy as you and you could also do a lot of stuff with them.
Todd: And look what you're doing right now. You're in my studio and on my show.
Juan: Yeah.
Todd: How cool is that?
Juan: Very cool.
Todd: Have you ever been on a radio station before?
Juan: No.
Todd: Well, now you're now you're on the show and this is being recorded for our show. So this is going to be great one.
Juan, I want to thank you for being here. You're a great little brother. And you're a good guy, and I hope many, many more trips are ahead of us together …not only as Brothers, but friends.
You're a really, really good young man. You're really doing well in life and thanks for being on my show today.
Juan: Thank you.
Todd: Yeah, and thanks everyone for listening to us share the joy of Big Brothers and Big Sisters. You are listening to AskTheContractors.com. I'm your host, Todd Bird.
This is where we cut through all the nail things down. We'll see you on the next show. Thanks so much.
---
Ask me your home renovation and home remodeling question from the link on the home-page at AskTheContractors.com

We answer your questions right here on the show

You can find qualified contractors for this project / and others in the Directory at AskTheContractors.com.  Request a bid from our Trusted Home Improvement Pros.

---
More News Articles: