Question from Tom

We understand the materials on this home siding job will be wet on both sides when attached.
Is it ok to start a moisture wrap and vinyl siding job when its pouring rain?
So, this is an interesting question…
[Click to Follow along with the Full Transcript]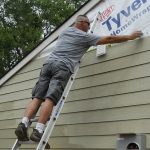 A homeowner may think that a wet wall underneath 15lb. siding felt and the vinyl home siding would create problems for the future, but it's just not true. The most important thing to think about when adding home siding is installed on a home is the sealed seams. Water should not be able to penetrate the wall from the outside after the installation is finished. That will cause rot, and mold, and much bigger problems.
Meeting a tight deadline
There are many times projects in the Pacific Northwest, for example must go on, even during their constant rainy season. In fact, some of our Trusted Roofing Pros will continue to install the plywood, felt-paper, and shingles to their roof installation in light rain. Of course, you want to be careful when working in adverse conditions. That's when slips, falls, and other safety issues are more likely to pop up. If you need to finish a phase of a project to beat an inspection deadline or keep the project on track, it may be a necessary evil to work in a rainstorm. We do what we need to do to keep the subcontractors chugging along. We keep the homeowner happy also.
Go ahead a put your moisture barrier up, then the siding, and know any heat from the sun and the environment will dry out the wood, which lasts for years to come.
---
Ask me your home renovation and home remodeling question from the link on the home-page at AskTheContractors.com

We answer your questions right here on the show

You can find qualified contractors for this project / and others in the Directory at AskTheContractors.com.  Request a bid from our Trusted Home Improvement Pros.

More Past Questions