Arizona's Best Garage Door and Repair Company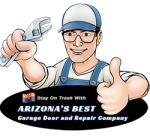 Are you experiencing garage door or roll-up door problems? Arizona's Best Garage Door and Repair Company is your best choice to fix the problem, hands down. We service all makes and models of the garage doors, garage door systems, and their components. In fact, we employ the best garage door repair team in the west. More importantly, our service professionals are industry trained and certified. That means your garage door will work every time you use it.
We're locally owned and operated right here in Arizona. Put our service to the test. We're confident that Arizona's Best Garage and Repair Company will beat the competition in price, service, and performance because it's about more than just the product. Furthermore, you can rely on our proven customer service and excellent craftsmanship with every job we perform. All our work is done at a reasonable price for you, so we're the #1 choice for garage door sales and service in Valley of the Sun.
Send Message to listing owner