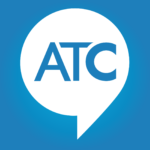 I love this segment about hinges. It's the Question of the Week. Ask me the question and I'll give you an answer.
Question from Jason B – in Sacramento

We moved into our new-construction home 2 months ago.

About half of the cabinet frames are splitting where the kitchen hinges screw-in.

I've asked the builder how they're going to repair the cracks. They said they're only going to fill the cracks with wood putty, but not glue.

I asked if they would use glue and re-drill the holes, but they said no.

Two Questions:
What is the proper solution for my problem?
What outcome should we expect?
I want to thank Jason for sending this in… It's a good question and I've seen the picture. These are inverted hinges. They're hidden hinges.
[Click to follow along with the Transcript beyond]
---
First of all, this is a new home, so it should be under warranty. Second, if your cabinet box-hinges and the screws are splitting the wood; there's something wrong there.
"That should not happen"

Host, Todd Bird
Here's the other thing; the builder can putty it, glue it, or do whatever they say they're going to do, but what happens when that warranty's up?
Also, consider that your home contracts and expands. You have hot Summers; you have cold Winters. So be careful of these screw holes that've split the wood. Down the road, you're going to lose that warranty.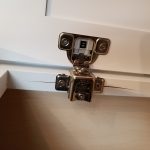 Here's What I would Do
I'd get with the contractor. Insist that those frames get replaced. I can see by the picture that the doors are fine.
Document everything. I would put it in writing.
Then ask the question, "what happens 3 years or 5 years when I'm out of warranty"?
You know, the contractor only must warranty the cosmetic work for 1-year. It's 10 years for the structural.
After one year it's up… It's toast… It's over… You own it.
Right now, put your concerns in writing. Make sure it gets fixed, and fixed properly.
Lastly, don't be afraid to get a second opinion. Call a cabinet shop, a home inspector, or a General Contractor to come out and put something in writing.
It's a great question, Jason. You want to document everthing. That's the best thing you can do.
---
Do you have a question for AsktheContractors.com?
Ask me your home renovation and home remodeling question from the link on the home-page at AskTheContractors.com

We answer your questions right here on the show

You can find qualified contractors for this project / and others in the Directory at AskTheContractors.com.  Request a bid from our Trusted Home Improvement Pros.